Hi, I thought I needed this page because so far my site has been about my work, my career and what I get paid to do… and I thought there is so much more to tell you about.
But really its all there between the lines, just like design, its in the subtle visuals, its in the way fonts and empty spaces communicate. But if you feel like maybe you have missed something or just don't have much time to put into the little nuances let me tell you what I intended you to understand about me.
From my resume here is the back story. I built my career on solid bones. My education began in the school of Journalism, there, I got the basics of marketing and communication. I went to CU, Boulder, which is a cool mountain town. I skied and fed my soul on the great outdoors [empty spaces]. Arriving in New York City [bold reveals] I filled in the details, my education didn't cover, with classes at School of Visual Arts [advertising conceptual classes] and Parson's School of Design, graphics design basics. My arrival in NYC in the late 80s coincided with the end of the era of Mad Men [advertising executives of Madison Avenue.] I was on the job as the graphic world went digital, and Apple computers became the tools of the trade. I was fortunate. As I learned the software "the old school" greats were still producing, they behind my shoulder designing, and teaching me, using me as bridge to the digital world of designing. I worked with the legends of Vanity Fair, Lloyd Ziff, and my design mentor, Arlene Hoffman, design award winner of "Jamaica" campaign and Danone Yogurt – Russia, the first American commercial filmed in the Soviet Union, Georgia Russia. I was doing the late nights on the team when the first printed magazines in the world went all-digital, Mother Earth News and Psychology Today. I worked for a designer (Ron "Wippo" Meckler) that claimed he knew as much about designing on a Mac as anyone, anywhere. Then, in 1995 I left NYC, on my way, I stopped in Whitefish MT (great skiing and Glacier National Park) for 2 years, and started building websites, motorcycles and 1959 volvos. I also married, started and ran a horse business with my partner in the summers for 7 years at the resort, started a family, had a household of 4 kids, 6 dogs, 15 horses, got a divorce … and worked as a designer the entire time. I had intended on just "taking a year break" in Idaho, but I got very busy having a life.
From my Portfolio, I hope you will see this. I ended up in Sandpoint, Idaho designing a local magazine, designing books and working on regional clients. As you look through my work, notice the strain towards wanting to simplify a complex message. Sometimes I get there. Notice the experimentation with different styles. I tried to push with clients that came back year after year. I built relationships that endured, both with clients and with how to reach their market with a message that was authentic and substantial. In the repeat clients, in my work and in the clients that chose to work with me there is sustainability. I built those relationships on the ability to hear what the client thought their message should be and delivering.
There were life lessons that stand out for me 1. respect the client and hear what they know about their product and message and 2. all things should be sustainable. To have a product it needs to have a value. The clients I have enjoyed share those qualities, Sandpoint Magazine reflects a beautiful place full of people that create community, The Chamber of Commerce helps the businesses here succeed, Panhandle Alliance for Education supports building the public school system to educate our children better, we have a vibrant land trust (Kaniksu Land Trust) that is really shaking up what protecting land can do for a community. These have been the repeat clients I have served for over 20 years. It has felt challenging and rewarding to be part of. But alas as a single mom, raising two beautiful girls its time to keep moving on.
So did you get all that from the glimpses I showed you? Bold moves, push back, desire to simplify, speak authentically, be sustainable… do it with grace, Hopefully those are the characteristics you've seen in my work and can expect from me in anything I do.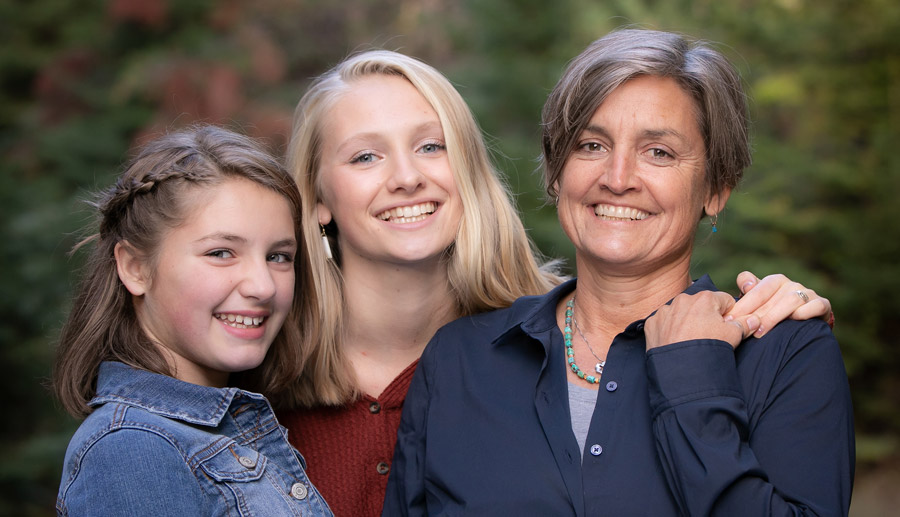 Me and my girls, Sage and Mason